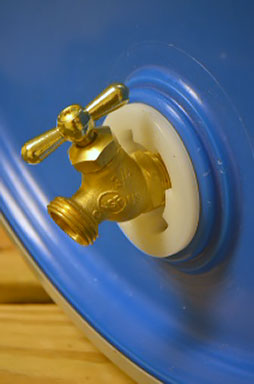 Add a Spigot to any permanently-sealed recycled barrel to make it a fully-functioning, easy-to-use rainwater transfer system!
This style spigot is for use on a sealed plastic barrel with bungs on the lid, as shown in the photo.
Typically, when a spigot is added to a sealed barrel through a bung cap, that barrel is used on its side in a slanted horizontal position.
This particular spigot CANNOT be used on the rounded sides of a rain barrel positioned vertically. For that type of spigot, see the Spigot for Standard Barrels.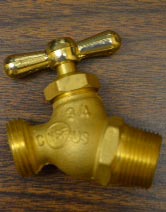 INSTALLATION INSTRUCTIONS: The barrel will have two built-in openings called bungs, each closed with bung sockets (sealing caps) that have a molded depression in its center. Drill a 15/16″ hole through the center of the bung socket cap. First thread the nipple extension into the spigot, then thread the other end into the new hole drilled into the bung cap. Done!

FREE SHIPPING
ON ALL CONTINENTAL USA ORDERS $50+
$9.95 shipping on all Continental USA orders under $50
$19.95 shipping to AK, HI, all USA Territories, Canada