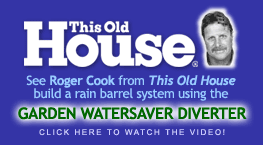 Whatever type of containers you find or buy, it's easy to put together a rain barrel that will automatically collect and hold whatever amount of rainwater you want, each and every time it rains!
These instructions produce fully-enclosed rain barrels, so as to avoid mosquito problems.
Described below are three methods for making rain barrels using the three most common types of rainwater collection containers. The first step, of course, is to find a source for recycled plastic barrels! See our 'How to Find Recycled Plastic Barrels Locally' page for some ideas.)
And once you've built your rain barrel using one of the instruction sets below, you'll have to attach it to one of your home's gutter downspouts using a Garden Watersaver Diverter Kit. [Installation instructions here].
1. HOW TO BUILD A RAIN BARREL WITH AN OPEN-TOP CONTAINER AND LID
This is the simplest version for those who have access to open-top barrels. Trash cans may be used, but to create the back-pressure required for the Diverter, the top should be sealed with duct tape. Instructions:
Drill a 15/16″ hole near the bottom of the container
Attach a "Spigot" into the hole
Drill a 1″ hole in the top for the Diverter hose to fit in
2. HOW TO BUILD A FULLY-SEALED RAIN BARREL USED HORIZONTALLY
This option is just as easy as #1, and takes only 10 minutes to complete. Instructions:

Drill a 15/16″ hole in the center of the threaded bung. This will leave a small collar to act as a washer.
Attach a "Spigot for Sealed Barrels"
Drill a 1″ hole on the side of the barrel that is opposite to the drilled bung.
3. HOW TO BUILD A FULLY-SEALED RAIN BARREL USED VERTICALLY
The third option bit more complicated, but is the best-working option in that recycled closed-top barrels are often the most readily available and create the best back-pressure for the Diverter. Here are the step-by-step instructions with photos:
| | |
| --- | --- |
| STEP 1: Drill a 15/16″ hole near the bottom of the barrel | STEP 2: Heat the area (To soften the plastic) |
| STEP 3: Insert a Spigot into the hole | STEP 4: Tighten the spigot strongly (especially if no washer used) |
| STEP 5: Drill 1″ hole in Threaded Bung | STEP 6: Attach hose to Garden Watersaver Diverter unit |
ADDITIONAL RAIN BARREL BUILDING HINTS:
When drilling for the spigot, use a 15/16″ drill bit. Tighten the Spigot firmly without using a washer. If the Spigot will not tighten firmly, then try with a washer (and if necessary, teflon tape)

If the plan is to link barrels together, drill a 1″ hole for the Connector Kit not far from the top of the barrel. (See How to Connect Multiple Barrels for instructions.)

Do not use barrels that once contained chemicals, and do not drink rainwater without purifying it.

To complete this project, you must attach any style of the rain barrels described above to one of your home's downspouts using a Garden Watersaver Diverter Kit. [Installation instructions here.]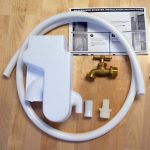 Want everything required to create a rainwater harvesting system in one easy-to-use package? Get a Garden Watersaver Complete Rain Barrel Construction Kit >